Fin de soirée positive !
Par VinZ le dimanche 17 février 2008, 04:56 - FullTiltPoker - Lien permanent
Pour terminer la soirée, j'ouvre une table de limit Omaha HI/LO 0.25/0.5 cavé à 10$, et je lance un sit n go 90 joueurs Knock Out à 3$ car le principe me séduit assez.
Le but sur ma table de cash est juste de me rembourses mon buy in. Mais je touche des tas de flops et au bout de 30 mains, j'ai doublé mon tapis. Ca correspond au niveau 75/150 sur le SNG, donc je ferme la table, déjà content d'être remonté à 100$ de BR.
Et je continue le SNG.
Je ne fait pas dans la dentelle: mon but est d'accumuler des jetons coute que coute, pour pouvoir sortir des joueurs quand ils seront à tapis contre moi.
Mais mon stack fait le yoyo ! Je monte, je descend, je monte, je descend.. Je n'arrive à sortir personne jusqu'à la bulle, où je fais finalement partie des short stack!
Mais je ne perd rien de mon agressivité, tapis à la moindre occasion pour pas me laisser bouffer par les blinds ! Et ça fonctionne ! J'arrive à la TF en ayant quadruplé mon stack pré-bulle.

Il y a à la table un chip leader tres agressif, mais j'ai la chance qu'il soit juste à ma droite! J'ai donc la position sur lui, et je réussis à m'en servir assez bien.
Arrivés à 5 joueurs, je touche un set de K et j'arrive à mettre 2 autres joueurs all in, et on atteint ensuite les 3 dernieres places payées. J'ai un stack de 100.000 le CL aussi et le 3e joueur survis avec 15.000.

Le short stack finis par sortir, et on entamme le HU final avec la moitié des jetons chacun. Puis viens le coup décisif du HU:
FullTiltPoker Game #5285033993: $3 + $0.30 KO Sit & Go (40177935), Table 3 - 3000/6000 Ante 750 - No Limit Hold'em - 22:32:20 ET -  2008/02/16
Seat 7: thedead17 (130,946) 

Seat 8: VinzPoker05 (139,054)) 

thedead17 antes 750) 

VinzPoker05 antes 750 

thedead17 posts the small blind of 3,000 

VinzPoker05 posts the big blind of 6,000 

The button is in seat #7 

*** HOLE CARDS *** 
 
Dealt to VinzPoker05    

thedead17 calls 3,000 

VinzPoker05 checks 

*** FLOP ***      

VinzPoker05 bets 6,000 Ici je bet parce que j'ai touché une paire 

thedead17 raises to 12,000 ce mini raise me fait bien penser à un arrachage... je décide donc de... 

VinzPoker05 calls 6,000 Pour check raise la turn 

*** TURN ***        

VinzPoker05 checks 

thedead17 has 15 seconds left to act 

thedead17 bets 24,000 

VinzPoker05 raises to 48,000 

thedead17 calls 24,000 Ce call me conforte dans l'idée qu'il n'a certainnement rien! sinon il aurait push sans hésiter ! 

*** RIVER ***         

VinzPoker05 bets 24,000 Je bet petit pour faire croire à un value bet 

thedead17 folds 
 
Uncalled bet of 24,000 returned to VinzPoker05 

VinzPoker05 mucks 

VinzPoker05 wins the pot (133,500) 

Il se remettra pas de ce coup et je l'achèverai quelques mains plus tard !
Je finis donc 1er de ce SNG 90 joueurs et j'empoche 72$ ça fait du bien à la BR !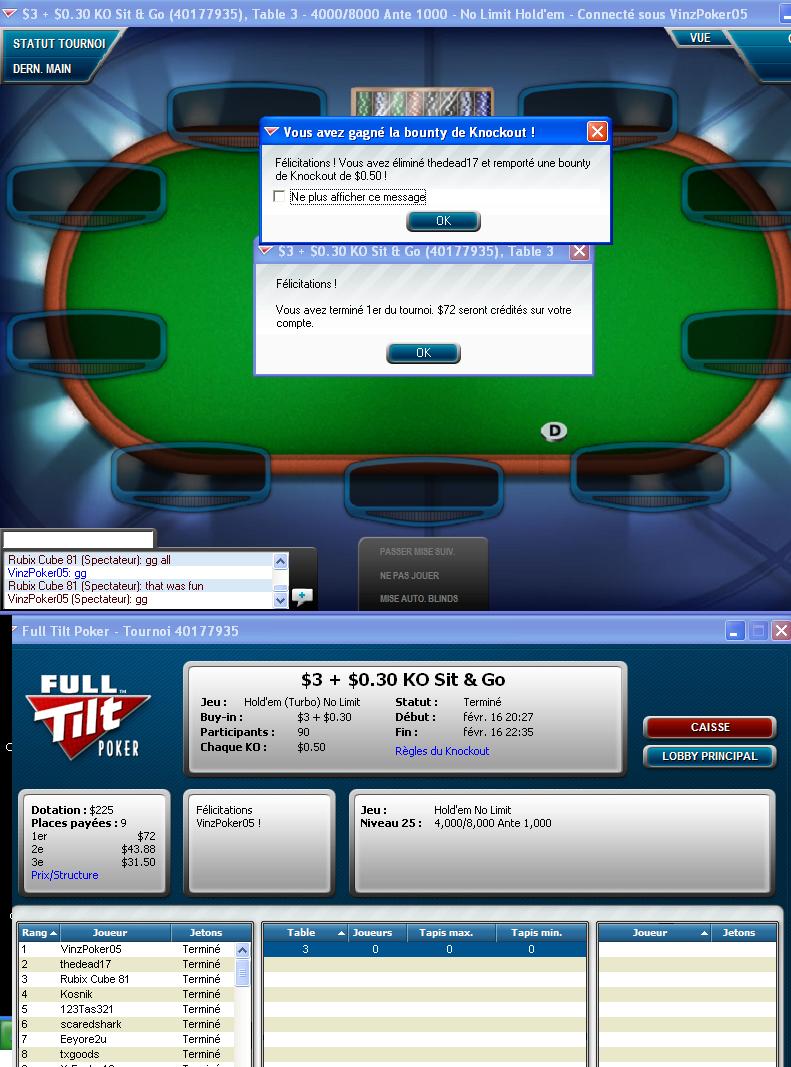 BR: 177$